Cloud Training and Workshops
These training programs and workshops are designed to help cloud providers, IT departments and assurance professionals build better and more secure IT systems and services. All programs lead to directly applicable results. Click here for the upcoming calendar of events.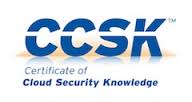 The Certificate of Cloud Security Knowledge (CCSK) is the industry's leading cloud security certification. Developed by the Cloud Security Alliance, it provides a solid theoretical and practical basis for understanding the security impact and new security opportunities of cloud computing. We have a course to help you get the certificate. The training is currently available in English and Dutch.
ClubCloudComputing is Authorized CSA training partner

Professional Cloud Technology Associate is the ideal foundational cloud training. It covers the essential characteristics and basic concepts of cloud computing, virtualization, cloud applications, cloud security and how to transition to, and operate in, the cloud. The exam leads to a certification by the Cloud Credential Council.
Cloud Adoption Essentials describes the road to optimal cloud benefit.
Do any of the following questions sound familiar? 
"Can we use cloud as a model to improve our own internal IT?" 
"How do we get maximum benefit from cloud computing?"
"We have an intense proliferation of cloud applications, how do we regain control?"
"How do we make cloud computing safe?"
"What are the steps we have to take? What is it we let others do?"
These are but a few of the questions that play out in organisations adopting cloud. It is important that your organization takes its proper place in the cloud ecosystem:
to quickly realize advantages such as flexible and cost effective IT that contributes to the business success
to avoid risks that are the result of unplanned cloud deployment.
I have collected the important activities in an 8 step road-map that will help you and motivate you to adopt cloud computing safely and successfully. This road-map is based on many projects, training, collaboration with partners, and questions from course attendants.
Read more on Cloud Adoption Essentials …
Do you want more information? Calendar of events? Have a detailed question? Feel free to contact me directly at [email protected] 0r one of the contact forms.