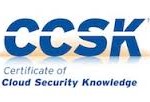 CCSK Foundation
With CCSK Foundation you are getting the official Cloud Security Alliance (CSA) CCSK Foundation training material, comprising of 6 modules of content and a CCSK token valid for two exam attempts.
The body of knowledge covers the
CSA "Security Guidance for Critical Areas of Focus in Cloud Computing v4",
ENISA report "Cloud Computing: Benefits, Risks and Recommendations for Information Security",
Cloud Controls Matrix (CCM).
On top of the official learning material, you will get access to an e-learning platform with additional learning units. This includes introductory material, explaining concepts that are prerequisite knowledge for the official material, as well as several learning units that extend the content for your practical application.
The core of this training is a weeklong sprint of 5 daily 2-hour online sessions, where all the CCSK body of knowledge domains are reviewed in an interactive way. You will be able to prepare for these sessions in advance. After the online sessions, recordings will be available, as well as chat support with the instructor and your fellow participants. Read more …
CCSK Plus
CCSK Plus extends Foundation with a set of practical labs that run you through building a secure application on Amazon Web Services (AWS).
According to CSA: "The CCSK Plus class builds upon the CCSK Foundation class with expanded material and extensive hands-on activities […]. Students will learn to apply their knowledge as they perform a series of exercises as they complete a scenario bringing a fictional organization securely into the cloud."
In the online training, you will do this in your own pace. Additional instructor-led support hours, PowerPoints, screen recordings and chat support are part of this package.
CCSK Plus is also available as a three day classroom training (in-company or Utrecht, Netherlands).
Cloud Security Impact
The most comprehensive package includes everything from CCSK Foundation and Plus and is geared towards professionals who not only want to pass the exam, but who also want to apply what they have learned in their jobs and teams. And that is where the real benefit of CCSK is. This package includes:
More exam preparation material
More application of CCSK, such as details of how to practically apply the CAIQ for evaluating cloud providers
More depth in explaining the material
More time to support you
More CPE points for your other certifications
You will get access to more learning modules, such as "Cloud Adoption Essentials". You will get three months of enrollment in my cloud GRC coaching program, which has 2 group calls per month of 1.5 hours each, and 2 1-on-1 calls per month, minimum. These calls will be devoted to better understanding of the entire body of knowledge, so you can pass the exam, and to applying it to your work, so your business can speed up.
We will also discuss cloud governance tooling such as CSA STARWatch for streamlining provider assessments.
Even more value can be created if you take this package with your team members, or better yet, with members of teams that you have to cooperate with.
(Note that this package is not an official CSA package, but it extends CCSK Plus.)
Corporate: the best of the best package
Do you want your organization to be cloud-native, with the resulting benefits? If you are serious about turning around your department or even your whole organization, your requirements probably go further than what these packages can provide you. In that case you can ask about our custom corporate group package. Just fill in the contact form with your requirements and we'll get back to you.