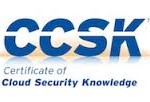 The Certificate of Cloud Security Knowledge (CCSK) aims to facilitate a common understanding of cloud security concepts, which should increase the quality of risk decisions taken. It is developed and maintained by the Cloud Security Alliance (CSA).
CIO.com listed CCSK as #1 on the list of Top Ten Cloud Computing Certifications. Click here for a course on CCSK.
Started in 2009, the Cloud Security Alliance has developed a widely adopted catalog of security best practices, the "Security Guidance for Critical Areas of Focus in Cloud Computing, V4.0". This document was last updated significantly in 2017. In addition, the European Network and Information Security Agency (ENISA) whitepaper "Cloud Computing: Benefits, Risks and Recommendations for Information Security" is an important contribution to the cloud security body of knowledge.
Together these are a broad foundation of knowledge about cloud security, with topics ranging from architecture, governance, compliance, operations, encryption, virtualization and much more.
The Certificate of Cloud Security Knowledge (CCSK) provides evidence that an individual has successfully completed an examination covering the key concepts of the CSA guidance and ENISA whitepaper.
Thousands of IT and security professionals have obtained the CCSK.
When a team goes through CCSK training together, their collaboration improves. They are on the same page, and they can bridge their diversity. As a result, good ideas get accepted quicker, and bad ideas get killed more swiftly.
CCSK is also the basis for many consumer/vendor discussions around risk and assurance, and starts to become required in many segments. The CCM (Cloud Controls Matrix) and the STAR (Security Trust Assurance Registry) are also based on CCSK.
The CCSK certification is an individual certification that can be earned after an online exam.
It proves to be efficient to take a course on CCSK, classroom or online.
Our training calendar can be found here, and if you want to stay up to date on new events, sign up for the cloud security 101 paper here (no obligation).
Authorized CSA training partner

Official (ISC)2 Training Provider