Docker security and risk management course
Learn how to secure Docker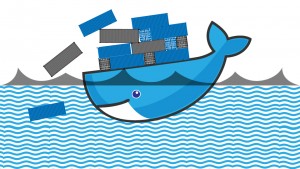 Docker is a great target platform for modern application development and deployment that revolves around a micro-services architecture.
However, every flashy new sword cuts both ways. Docker probably has new risks.
Is it safe? Is it production ready?
This is a groundbreaking new training opportunity to get to grips with securing Docker.
You will learn about
Docker business drivers
The Docker Ecosystem
Sample Docker application architectures
Risks in the eco system
Controls that can be applied, with an emphasis on governance and risk management controls.
This course has a detailed breakdown of what you need to know about Docker security. See the screenshot for a sneak preview, or go here for a more detailed overview of its content.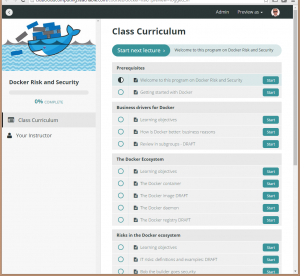 With the course comes a Q&A session. I will also follow up on unanswered questions later.
This Docker Security program is aimed at software and security architects who are using Docker as an infrastructure approach to the applications that they develop and deploy.
Security not only indicate protection against hackers, but more generally the avoidance of risks, including confidentiality, integrity and availability risks, as well as addressing legal and compliance issues.
In the program we will mostly focus on Docker specific risks, but we will have links to information security and cloud security in general.
Some of the topics discussed
What can actually go bad, and what are approaches in fixing that? Here are some of the topics we could be discussing.
What are the components of a Dockerized application? What do we control, what do our providers and ecosystem partners control?
Drill down into the security controls of a Docker application (here is a YouTube preview of one of them)
Where is data stored, in particular persistent data?
Life cycle issues (provenance, secure boot, safe destruction of persistent data).
Software component management, versions and vulnerabilities.
Management interfaces, including APIs.
Capacity and performance management.
Identity management, management of access and encryption keys.
Approaches to (continuous) security testing.
Compliance requirements.
Techniques and approaches to reduce risk.
Your trainer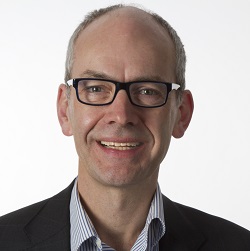 I am one of the most experienced independent cloud trainers worldwide. Since 2011 I am focussed on developing and delivering cloud computing training, mainly related to business value and business risk of cloud computing. I have delivered the CCSK cloud security training over 40 times myself in more than a dozen countries. On top of that I developed and delivered more cloud training in more countries. My background is broad. I worked as a researcher and instructor at a university, as a project leader and consultant at a systems integrator and an internet provider, and as an IT and digital infrastructures consultant at a Big Four company.
Your results
Get the full overview of cloud and container security from an enterprise perspective on the bleeding edge of Docker security.
Access to a learning management system with materials, even after the training.
Things to watch out for and do to make and keep your Docker usage secure.
The webinar and the support site are valued at € 497, but your early bird introductory investment is only € 297.
My guarantee
If at any time you feel this is not worth it, let me know, and I will refund you straight away.
Sign up through this button. Paypal (and credit cards through Paypal) and Ideal are accepted.