For small companies delivering an online service
The "Cloud Risk Scan" helps you tackle the biggest IT risks threatening your online business
Identify and manage the biggest risks to your business
See your risk to manage it
Dear entrepreneur.
I work with companies that have done significant investment in developing software that serve the needs of a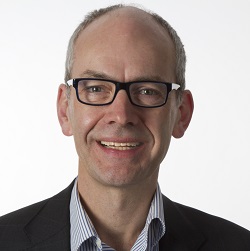 variety of clients. One of their bigger fears is that this software, the data that they store, and their online availability are at risk. Even if they are pretty sure that they have those risks under control, they have a hard time explaining that to their clients and investors.
And those risks are real. Cybercrime and cloud failures happen on a too regular basis. What is a small company going to do about it?
Large cloud providers and big enterprises that use cloud services have dedicated teams working on risk management and compliance. I know, I train these people in my CCSK (Certificate of Cloud Security Knowledge) classes.
But I also work with smaller companies that have developed for example:
an e-learning solution for a specific market,
an online calendar,
a customer management system for coaches,
or a service to help automate shop floor logistics.
What these smaller companies tell me is that they cannot afford the heavyweight big enterprise approaches. They need to focus on developing software that meets customer needs now, and getting those customers to sign up to them in the first place. And there is no budget for consultants.
This is what motivated me to develop a more accessible program for smaller companies. Because small and medium size companies are ran in a very different way from large regulated enterprises.
My goal is to teach you how to quickly and efficiently improve the IT risk management of your online service. What's more is that I want to teach you how to show that to your customers and investors.
Because I believe that demonstrably better IT risk management leads to more clients, more revenue and company growth.
What should not happen to you
Here are just a few examples of misfortune that could happen to you too.
CodeSpaces.com went out of business after a hacker broke in their AWS account and deleted most of their files.
In mid-2015, BitDefender, an antivirus firm, had an undisclosed number of customer usernames and passwords
stolen due to a security vulnerability in its public cloud application hosted on AWS. The hacker responsible demanded
a ransom of $15,000.
In mid-2015, the US Internal Revenue Service (IRS) exposed over 300,000 records via a vulnerable API
My own site got infected by malware, as a result of which the site got a bad reputation, which meant that most corporate users could no longer access it, nor sign up for my services. The full story is elsewhere on this site. This has cost me a lot of hours, and thousands in revenue.
And of course, there are many more small companies that have suffered problems that do not make the news.
It takes just a little digging to uncover serious IT risks in any unaware organisation. Do you want to do that yourself, or do you want to wait for an outsider hacker to do it for you, while you are away on a weekend or holiday with your family?
What to do?
The "Cloud Risk Scan" is a self paced online course, with live webinar support, that will result in a good understanding of the biggest risks that your company runs in relation to its cloud and online services, and how these risks can be tackled.
Included is a good understanding of why you should address this: how will your company and clients benefit?
What is in the program?
The course contains 5 modules, 2 online group webinars, and a support group for your fellow course takers. Here is the content of the modules.
Module 1. Why you need to pay more attention to the risks you bring to yourself and your customers
Module 2. The top IT risks you should analyze first, based on the 2016 Cloud Security Alliance Treacherous Twelve top risks
Module 3. Five security tips you should be implementing today that will address top risks
Module 4. How to get started on demonstrating your proper risk management (hint: know your data)
Module 5. How to move forward from here
The program launches in October 2016, and the group webinars will be in November.
Proven program
Though Cloud Risk Scan is a new program, the content is not new.
I have delivered more than 50 CCSK training sessions, and have developed a substantial amount of learning material for that as well.
Here is a screenshot of my online academy (click to go to it). Cloud Risk Scan will be there soon!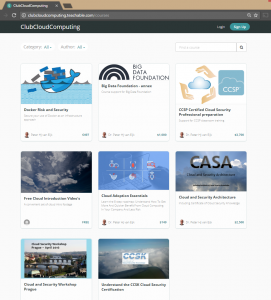 Get it now
Currently I am developing this program. Like I said, I have all the material available because I deliver training sessions on cloud security and governance to corporate clients. With your help I can tailor this to your exact situation.
This online program will be priced at 249 Euro (less than $290) when it finally launches. In this pre-launch phase I am discounting it ridiculously to 49 Euro. That will only last until the end of October though.
So sign up now through this button. Paypal (and credit cards through Paypal) and Ideal are accepted.
Sign me up for the Cloud Risk Scan program!
Guarantee
If you are unhappy at any time about this course after you have bought it, just let me know and I will refund you immediately. My assumption is that if I refund you for this, you are more likely to consider participating in one of my other courses in the near future.
As I said, this is the first time I run this program, but I have done more than 50 CCSK Cloud security training sessions (and a lot more other stuff).
Here are some quotes from attendants of other training that I delivered.
IT architect, London City, Canary Wharf: "Peter clearly has a great deal of specific industry experience and draws on this to provide real-world examples."
IT risk specialist: "The subject knowledge of the Trainer was excellent, which was complimented by his long experience in the IT industry which helped provided interesting anecdotes to put various concepts in perspective."
"New way of 'thinking cloud' (e.g. cattle vs pet, use service as offered or take another one, …) was very well explained with real-life examples. Eye-opening!"
Sign me up for the Cloud Risk Scan program!
Frequently asked questions
"Can I do this myself without the program, by doing my own research?"
Yes, you can Google this all together yourself. There is a lot of  free material out there, for example on the website of the Cloud Security Alliance. However, just think about how much time this will take you, and which rabbit hole you will end up in? Can you afford to do it yourself? Better to have me filter it all. Wouldn't you rather spend your time focussing on the growth of your company? Just the group webinars themselves are worth the price of the program.
"I am not in the cloud, so I am safe." This means you are not using a cloud service, nor providing an online service one way or another to clients. Unlikely.
"My vendor takes care of it, so I am safe." If you don't develop any software at all, you might be safe. If your vendor actually does his stuff. How would you know?
"How long will I have access to the materials?" For as long as you want.
"Do I get a refund if I am unhappy?" Yes. Unconditionally.
Sign me up for the Cloud Risk Scan program!
P.s. some final notes
Stop losing time and sleep worrying about IT risks to your business.
Be an early adopter of this program and get all the benefits now, before I launch the official program.
Sign up now. The early bird advantage expires soon.