CCSK 'Certificate of Cloud Security Knowledge' training
Laat u certificeren door de belangrijkste industriegroep en maak cloud computing veiliger! Bekijk de kalender om te zien wanneer de volgende cursus is.
Cloud computing
Cloud computing ontwikkelt zich in een razend tempo. Maar is het voldoende veilig? De flexibiliteit leidt tot grote voordelen voor organisaties. Maar afhankelijk worden van een externe dienstverlener gaat met onbekende risico's gepaard. Tegelijkertijd merkt u wellicht dat cloud-toepassingen het bedrijf binnen worden gehaald, zonder dat voldoende over de voordelen en risico's is nagedacht.
Diepgaande kennis van cloud computing is schaars. En een  helder beeld  van de security consequenties is nog schaarser. Het is makkelijk om NSA te noemen, maar er zijn belangrijkere risico's om zorgen over te hebben. Dat zijn de risico's die een project in gevaar kunnen brengen, de reputatie van een bedrijf, of de carrière van een IT-expert. Expertise in cloud computing is moeilijk te krijgen en moeilijk te herkennen.
Herkent u een of meer van de volgende vragen?
Wat moet onze cloud provider doen? En wat is dan onze taak?
Hoe wordt cloud computing voor ons van nut?
Welke servicemodellen zijn voor ons het beste?
De meeste van deze problemen zijn het gevolg van de onvolwassen fase waarin cloud computing zich nog steeds bevindt. Providers proberen zo snel mogelijk naar de markt te gaan, waarbij ze hun bestaande producten en diensten "cloud washen". Wat kunnen we doen? Hoe kunnen we ervoor zorgen dat u een volledig leveranciersonafhankelijk begrip heeft van cloud computing?
CCSK training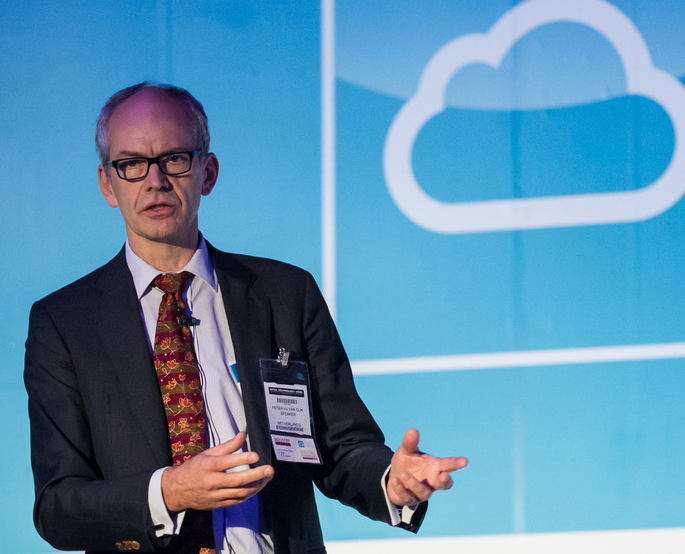 Gelukkig is er een onafhankelijke training en certificering voor cloud security-kennis. De Cloud Security Alliance (CSA) is een internationale non-profitorganisatie gericht op betere cloud computing security. De CSA heeft een catalogus van best practices samengesteld die breed is geadopteerd. Het 'Certificate of Cloud Security Knowledge (CCSK)' toont aan dat een individu succesvol een toets heeft doorstaan over de belangrijkste concepten in deze catalogus. Dit is de eerste leveranciersonafhankelijke certificering voor cloud computing security kennis.
Met mijn hands-on training krijgt u een fundamenteel en praktisch inzicht in cloud computing security, waarmee u zich vlot kunt voorbereiden op het online examen.
Begrijp Cloud Security
Een helder inzicht in de security uitdagingen rondom cloud computing zal u in staat stellen om cloud computing beter in te zetten. Naarmate u de risico's beter begrijpt, bent u meer in staat om ze af te handelen of te ontwijken. "Met betere remmen kunt u sneller rijden". Dezelfde inzichten werken ook om gevaarlijke vergissingen te voorkomen.
Traditionele IT-beveiliging draait om het beschermen van de technische infrastructuur, zoals servers en netwerken. Dat voldeed een tijd, maar is nu niet meer genoeg. Het is nodig om aandacht te besteden aan:
Beveiliging van de infrastructuur met daarbij inbegrepen het 'management plane'
Meenemen van governance en compliance overwegingen
Beveiligen van data over de hele levenscyclus
Beveiligen van applicaties
Beveiligen van gebruikers en hun rechten
Een beter begrip van de risico's en voordelen van cloud computing stellen u in staat om betere oplossingen te definiëren. Zoals een verkoopmanager van een cloud provider na een van mijn CCSK-cursussen zei: " Ik kan nu betere offertes maken voor onze klanten".
Een helder bewijs van de cloud security-expertise van uw medewerkers maakt het eenvoudiger om de juiste mensen op het juiste project te zetten.
Veiligere clouds
Cloud computing heeft een groot potentieel, maar levert ook nieuwe risico's. Na de CCSK-training zal het potentieel veel bereikbaarder zijn en de risico's meer vermijdbaar.
Voor sommige geregistreerde professionals kan het bijwonen van de CCSK-training meetellen voor het halen van voldoende professionele educatie (PE) punten.
Over Peter van Eijk
Dr. Peter H.J. van Eijk is een van 's werelds meest ervaren onafhankelijke cloud-trainers. Hij is door de CSA gecertificeerd om CCSK versie 4 trainingen te leveren. En door de Cloud Credential Council voor het leveren van CompTIA Cloud Essentials en Virtualization Essentials.
Hij is de auteur van de ITpreneurs Cloud Essentials cursus en leverde een bijdrage aan de Virtualization Essentials cursus.
Hij geeft deze trainingen over de hele wereld.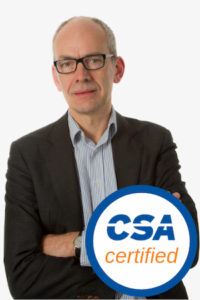 Wanneer is de volgende training?
Klik hieronder op de knop om de kalender te bekijken.
Wij raden u aan de aanbevolen voorkennis door te nemen. Deelnemers aan de training krijgen ook gratis toegang tot het besloten deel van clubcloudcomputing.com. Hier vindt u waardevolle oefenexamens en andere informatie over het CCSK-examen.
Security operations manager
The course provides a fantastic overview of Cloud and was an eye opener to me.  The benefits of cloud were made clear, but so too were the limitations and considerations of the service. I would recommend this course to everyone involved in Cloud from hands on IT to Executive. This was one of the most informative courses I have attended.
Security operations manager
IT architect, London City, Canary Wharf
Peter clearly has a great deal of specific industry experience and draws on this to provide real-world examples. Always happy to divert the conversation out of the course where relevant and interesting within the cloud computing context.  I think this was particularly useful and observed this providing value to the entire group.
Attended several of Peter's courses
I have attended several of Peter's courses. They are always very good with practical knowledge on cloud computing, and this is helping us very much in our development of the Oman government cloud services.
Shanthi Vijay
Information Technology Agency, government of Oman
Gabe Camacho
Very grateful.  Thank you!
Gabe Camacho
Didier Raelet
I have appreciated very well most topics and particulary the Security Risk & compliance topics. Comparison on IT process on premise with those in the Cloud is quite good. But, it could be done deeper.
Didier Raelet
Vincent Yesue
This class is great. Good balance between you talking, and us chatting. You keep control of the syllabus and the schedule, and we provide some information on what the facts mean to us and how we understand them in our context. Brilliant stuff.
Vincent Yesue
Daniel
Very professional domain, but very clear explained! Thanks
Daniel
Bianca
Most useful: Technical context, risk knowledge and exam approach
Bianca
Ali Isikli
Experienced trainer. Reflects his experience well within the context
Ali Isikli
Ken Tola
Peter is incredibly knowledgeable and takes the time to answer questions and actually work with his students. The course is also an amazing way to learn how AWS actually works and, by the end of the labs, you feel ready to manage your own cloud! The materials are easy to understand and yet technical enough to get real-life security implemented. This was a great course and far beyond most of the accreditation courses I have completed.
Ken Tola

Carlo Tyrberg
I attended Peter's CCSK-training and found it very useful, because 1) the sessions gave me more insight on several other aspects of cloud computing than only security, 2) it 'inspired' (/forced) me to study the CSA guide/ENISA more thorughly and not least 3) I manage to pass the exam 🙂
Carlo Tyrberg

Frank Cerney
I had very little to no experience wit the CLOUD, so this training was incredibly valuable to me. My new professional responsibilities are becoming more and more cloud centric. I have a greatly improved level of confidence because I know I have a solid educational foundation that the training and exam preparation has provided for me. I cannot recommend it highly enough!
Frank Cerney