Make your team more relevant
Your organisation wants the benefits of cloud, but at an acceptable risk. When considering these risks, your team needs to be a business enabler instead of the "department of no". This requires a common understanding across functions of the basic concepts of secure cloud adoption.
Without this common understanding, your organisation will fall behind in its secure cloud adoption.
Secure cloud adoption requires a core team of certified cloud security professionals (see CCSK). You will also need a broader foundational common understanding of cloud computing in the organisation.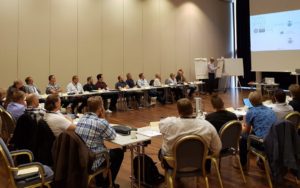 Teamwork
Understand that your cloud adoption teams span across architecture, legal, security, procurement, operations and selected business unit professionals. They need to speak a common core language. If they don't, your cloud adoption program will limp along and be a boat anchor to your innovation ambitions.
Secure Cloud Adoption Workshop
My Secure Cloud Adoption Workshop is designed to jumpstart your organization. It is a modular workshop that can serve as an introduction to cloud computing. The emphasis is on security and risk management, and it is aimed at senior professionals across your organization. After this workshop, some people will appreciate the deeper dive that is in CCSK.
Length: 3-7 hours.
Size: up to several dozen participants.
This is a varied and interactive program, with lots of activity from the participants. Most of the exercises are done in groups of 2-3.
Modules in the workshop (suggested sequence)
Introduction of participants and facilitator
Quick cloud security wins
Cloud models (NIST), with service model exercise
Cloud business benefits spectrum (with small exercise).
Cloud threat modelling (story with examples, potentially reviewing CSA Treacherous Twelve)
Shared responsibility exercise (based on PCI/DSS Cloud model)
The cloud adoption process, including migration strategies and service model selection
Evaluation of cloud providers (CCM and CAIQ) – practical
5 elements of cloud security
Review of typical IaaS security features
Security automation exercise (paper based)
Cloud case from customer (run through adoption and securing)
Cloud training options
Evaluation and wrap up.
The following non security modules can also be considered.
Cloud service demonstrations (AWS, CI/CD DevOps, OpenStack, …)
Service models exercise, Service description and Service design
Cloud business models and business cases
Cloud technology architectures
IT risk basics, as applied to cloud
These modules vary in length between 10-40 minutes.
Depending on background, learning objectives, length and number of participants, a workshop is customized by selecting from these modules. I can run on a strict timetable.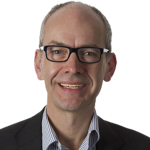 I am one of the world's most experienced independent cloud trainers. Dedicated to cloud security training since 2012.
About the workshop materials
All learning materials are included in my e-learning "Secure cloud adoption essentials", to which your workshop participants have full access.
Prerequisites
Your (potential) participants should view this video before the workshop.
To know more about this workshop, or get a customized quote, send me a contact request or contact me on LinkedIn.
Gabe Camacho
Very grateful.  Thank you!
Gabe Camacho
Didier Raelet
I have appreciated very well most topics and particulary the Security Risk & compliance topics. Comparison on IT process on premise with those in the Cloud is quite good. But, it could be done deeper.
Didier Raelet
Vincent Yesue
This class is great. Good balance between you talking, and us chatting. You keep control of the syllabus and the schedule, and we provide some information on what the facts mean to us and how we understand them in our context. Brilliant stuff.
Vincent Yesue
Daniel
Very professional domain, but very clear explained! Thanks
Daniel
Bianca
Most useful: Technical context, risk knowledge and exam approach
Bianca
Ali Isikli
Experienced trainer. Reflects his experience well within the context
Ali Isikli
Ken Tola
Peter is incredibly knowledgeable and takes the time to answer questions and actually work with his students. The course is also an amazing way to learn how AWS actually works and, by the end of the labs, you feel ready to manage your own cloud! The materials are easy to understand and yet technical enough to get real-life security implemented. This was a great course and far beyond most of the accreditation courses I have completed.
Ken Tola

Carlo Tyrberg
I attended Peter's CCSK-training and found it very useful, because 1) the sessions gave me more insight on several other aspects of cloud computing than only security, 2) it "inspired" (/forced) me to study the CSA guide/ENISA more thorughly and not least 3) I manage to pass the exam 🙂
Carlo Tyrberg

Frank Cerney
I had very little to no experience wit the CLOUD, so this training was incredibly valuable to me. My new professional responsibilities are becoming more and more cloud centric. I have a greatly improved level of confidence because I know I have a solid educational foundation that the training and exam preparation has provided for me. I cannot recommend it highly enough!
Frank Cerney