Unlock the cloud potential in your team to get the best adoption of cloud computing for your company
Click here for full course and workshop calendar.
Do any of the following questions sound familiar? 
"Can we use cloud as a model to improve our own internal IT?" 
"How do we get maximum benefit from cloud computing?"
"We have an intense proliferation of cloud applications, how do we regain control?"
"How do we make cloud computing safe?"
"What are the steps we have to take? What is it we let others do?"
These are but a few of the questions that play out in organisations adopting cloud. It is important that your organization takes its proper place in the cloud ecosystem:
to quickly realize advantages such as flexible and cost effective IT that contributes to the business success
to avoid risks that are the result of unplanned cloud deployment.
In order to guarantee you too a comfortable adoption I have collected all relevant knowledge and experience. The result is an 8 step road-map that will help you and motivate you to adopt cloud computing safely and successfully. This road-map is based on many projects, training, collaboration with partners, and questions from course attendants.
What will you learn?
Each step will help you answer a specific question. The 8 steps are:
Step 1: what are your expectations of the value of cloud?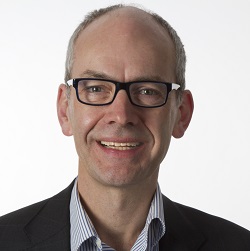 Without clear expectations on the expected benefits of cloud, there will be no energy to start any initiative and will it be impossible to measure the progress. Cloud computing can mean a lot of things for organisations, but it is important that these advantages support the organizations's strategy.
Step 2: What does the organisation see as obstacles?
Cloud computing is scary, and brings new risk. Of course it does. And the road from dream to reality can be long and winding. It is important to keep the big obstacles in mind, because they seriously influence what needs to be done in the next steps.
Step 3: How are we going to tackle this?
The expected benefits and obstacles determine the process that organisations follow to come to optimal cloud deployment. In addition, it matters what the installed cloud base is, what the technical ambition is of the organization, and what its goals are.
Step 4: What will be the services that we are going to deliver?
Being an IT-supplier, whether internal or external, implies that you have to be selective in the (cloud)services that you offer. You cannot do everything and most certainly you cannot do everything well. In addition, your services have to contribute to your strategy as well as your customer's strategy and you will have to learn to live with the obstacles. It turns out that it is not trivial to define a clear service that satisfies those requirements. But there are ways towards that.
Step 5: Which partners and providers will be involve?
No service provider these days is capable of doing everything themselves. As an IT-supplier you get to decide what you leave to partners and source from other providers, so that you can dedicate yourself to maximizing your own added value.
Step 6: What are the skills and competencies that we need ourselves?
If we know what are added value should be, we can derive from that what the skills of our people should be, and what kind of service culture we should strive for. This is essential in helping people take their new place.
Step 7: How will our organization and technology look?
With our skills and competence we will be able to select and develop the technology that is required to implement our service, and we will be able to organize ourselves for that delivery. This is obviously rather dependent on our service, but there are some common blueprints.
Step 8: Securing our success
Finally: building a good service is nice, but it is vitally important that our service is sustainable. Attention to quality often takes the shape of a certification these days, but changing circumstances demand regular review of our service portfolio. And sometimes this will bring us back to step 1.
Learn to apply the 8 step road-map during my upcoming training or workshop. It will allow you to get started the next day with cloud adoption in your organization.
What do my customers say?
"With Peter's training, I can now write better proposals to our clients."
~ Cloud provider sales representative
"I can now ask better questions to cloud providers, which gives me more control over them."
~ IT project manager
"Peter was very successful in practically explaining how the adoption of cloud computing requires new processes and management, and how it differs from outsourcing."
~ Rogier Verheijen, IT manager, Antares, Nederland
Modules
Cloud Adoption Essentials is delivered as a custom program.
This will typically focus on 6 learning objectives.
Module 1. Cloud characteristics, value and risk
Module 2. Overview of the 8 step road-map
Module 3: Technology architecture
Module 4: Service engineering
Module 5: The risk path
Module 6: Running the transition: putting the pieces together.
Questions?
If you are in doubt as to whether this program will benefit you, just send a message to [email protected].
---